It's a wedding celebration day here at
Today we are sponsored by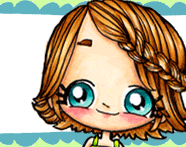 Weddings are just such happy occasions. Don't you just love to see the pretty dresses and feel the love of two people making that promise to love forever. I get so misty eyed at weddings.
The image I used today comes from Shelly's Images. It's an image I won a while back from them and haven't had an opportunity to use it until now. I colored with Whisper Strokes, Copic and Stampin' Up markers. I need to get a tutorial. I added some Glossy Accents to the flowers she has to bring them out a bit.
I found these pretty digi papers over at Bearly Mine. They have so many beautiful free papers. The others come from The Paper Co. and my stash. I used a die cut from Spellbinders. The floral and lace are from a candy win and the pearls from an Inky Impression win. I am so glad to get to use these things. Finally this design is a sketch from Inspired by Stamping.
Challenges entered:
Thanks for visiting. Have a fabulous day!